Slow & Steady Wins The Race, Really?
Can Slow & Steady Wins The Race?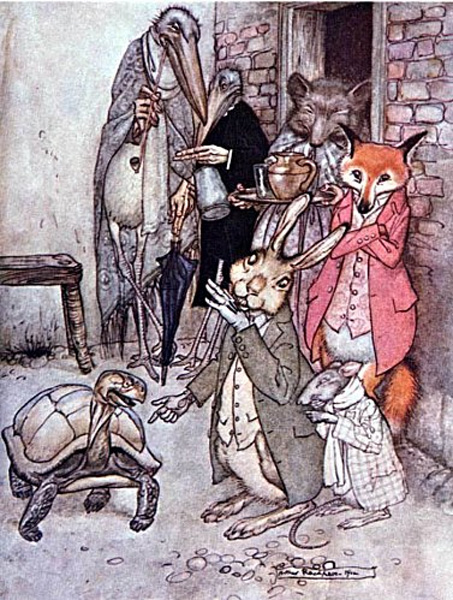 David Wood, thanks a lot for giving me today's blog topic for my 21 days blogging challenge. I was watching Michelle yesterday on the introduction video where she gave a valuable advice to prepare a calendar of topics for daily blogs.
This morning, as I was going to chalk out list of different topics, when something told me to first check the mails to see if I had some new leads. The third mail from the top was from David and the subject line, as is always with David's mails, made my eyes pop up. I logged out of my mail account and decided to first pen down this blog without even reading the mail. I did not want to be slow in my action.
You must surely be aware how this phrase "slow and steady wins the race" came into being. It refers to a race between a tortoise and a hare. Two totally different spices. The hare with his lightning speed can run as fast as around 45 kilometers an hour and the poor tortoise can hardly run, it can crawl at not over half a kilometer an hour that is it. The lesson of the phrase is that while the hare thought that he could rest for a while and make up the lost ground in no time while the tortoise craws toward the goal, the tortoise kept on crawling consistently with persistence and ultimately won the race. However in its literal meaning, it really sounds silly. Going slow is a sure formula for failure.
Business and Market Pace
Really it is the biggest joke for our business if we start believing in "slow and steady wins the race". We are all in what race? Making money, so if I am slow in picking up money from the leads, others will. They don't believe in going slow. David is bang on when he says that this is the dumbest idea ever heard. I think this saying belongs to the Stone Age; it did take them time to light the fire by rubbing two pieces of stone for hours.
Let's say you are sitting for a written examination. The entire paper has to be answered in three or so hours. Can you afford to go slow there? Do you think you can solve the paper if you did not keep pace with your responses? World has changed, today we do not have guys who go slow on their goals and expect to win.
In any business including online marketing, technology changes by the seconds. If you do not keep pace with the changing technology around you become obsolete, an antique piece which no one wants to even collect. Each day when we hear the Inner Circle or Empower Hour audios, the information explosion is humongous. I cannot afford to be show in listening, understanding and implementing the concepts to remain competitive in the market. I don't have a choice, others will overtake me.
Even in blogging, we all have a competitive envy from each other, to excel, to be better than others and to attract maximum readers for our blog. Hats off to Michelle who posted over 40 blogs in a day. The result is for all to see. She is there where most of us aspire to be. Her concept of speed blogging is also in defiance with the topic we are discussing.
While I believe in quotes and old phrases as a part of learning, many of these have lost their relevance in today's dynamic and changing environment. "Slow" as in persistence and repetitive makes sense but slow as in pace and speed of actions, simply bull shit, a sure shot recipient for failure.
I am surprised at my blogging speed today. This is my first blog that I finished in little over 35 minutes. I think I am just about to catch up with speed blogging. But do you know how I learnt it? Very easy, I joined a program and got started. Interested to join? Just CLICK HERE, watch the video and start blogging, it is fun!